Enjoy this Pattaya Sexy Man video.
Make no mistake, when these Thai bar girls offer you entertainment, they usually really mean it! If you play your cards right you can have the time of your life. But, if you want my advice, it would be wise to do a little research first.
Welcome handsome man!" - "Come inside sexy man!" They're the siren cries of the beautiful Pattaya bar girls as they try to pick you out from the endless stream of Western men (falangs) who stroll down the crowded sois (side streets) of Pattaya, to entice you into their house of fun.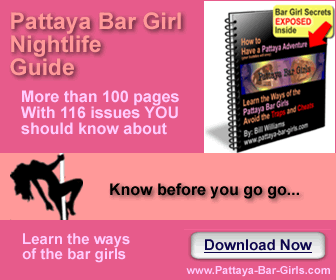 Wherever you are in Pattaya town, in the concentrated beer bar complexes of Soi 2, Soi 8, Soi 7 or Soi Diana, the "short-time" Mecca that is Soi 6 (which many ex-pats would rather keep among their own little Pattaya secrets), or the in-your-face frenzy that is Walking Street, which must have more go-go bars, erotic shows for every taste, and just plain sexual energy than anywhere else on the globe, a smiling charmer of a Thai lady is waiting to give you, "sexy man", an experience you may never forget. More Pattaya videos.